Portfolio
Maestro Communications has had the privilege of working with many outstanding companies in a truly interesting array of industries. This experience has instilled a keen sensitivity and ability to identify and define the needs of each client. We've grown up with the high tech industry, played in the videogames industry and helped companies introduce new products to market that are still flourishing today. We understand that end-results are crucial for both our business and your business. Our power of persuasion gets your message heard.

Technology We live in a great age, with new technologies emerging every day. Maestro Communications and staff have worked with companies at the leading edge of the technology world, encompassing computers, software, communications, manufacturing tools and e-business.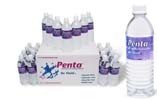 Consumer It's very gratifying to introduce a new consumer product to the market and still see it on the shelves 5 years later. From bread makers to water, we thrive on getting new products into the hands of consumers and build PR and marketing campaigns that drive sell-through.

Culture A little culture is essential to broadening life's perspective. Aside from our own cultural interests, appreciating the great talent and creativity within our client companies helps us bring their dreams to fruition. We take any challenge with high energy and drive. We look closely at the internal elements and people that makes a business tick and translate that into proof-positive marketing and communications campaigns.