Portfolio: Culture

Slightly ahead of its time but still not replicated today, SayIt introduced a unique virtual space and marketplace, a global community where anyone could generate and share their creative side with the world using the Internet. SayIt enabled people to post original creations or create unique and fun art using SayIt's easy, convenient tools making their creations available to anyone visiting the site. Hundreds of thousands of original art selections such as greeting cards, cartoons, photographs and writing samples were available on SayIt. Called the "EBay of Content" by Industry Standard magazine, SayIt featured the largest selection of user created media ever available to the public.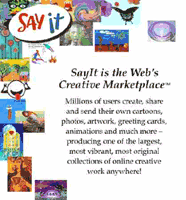 As part of the marketing team and director of PR at SayIt, Dana Oertell-Scoby collaborated with this highly creative group to spread the word about SayIt's unique online community. Affiliate marketing programs and contests became important tools to increase the visibility and buzz about SayIt's online community. Cash incentives to creators whose work was picked by users kept creative content flowing in. Affiliate sites utilized SayIt's amazing content as an added feature to their own and sending consumers and artists from around the world to SayIt specifically to express themselves. Press coverage of the site covered a variety of media including The Industry Standard, Family PC and CNBC's Power Lunch with Wall Street Journal reporter, Kara Swisher.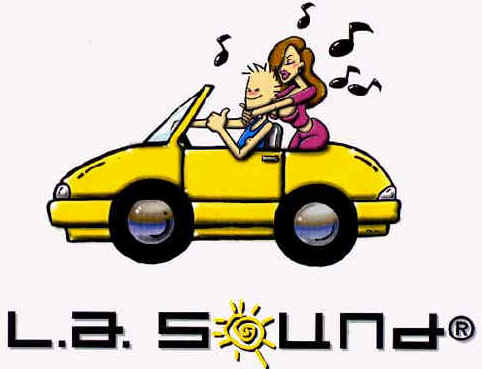 Audiophiles are pretty particular when it comes to style and performance of their audio systems so when LA SOUND® appeared on the market in the 1990s they just couldn't get enough of the stylish and trendy LA SOUND car audio systems and components. With stereo head units, amplifiers and subwoofers fondly named after famous locations such as Malibu, Laguna and Redondo, California culture and history would soon be seen, and literally heard in the streets - from New York to Alaska. LA SOUND was on to something - giving anyone the chance to feel part of California tradition. Then, when LA SOUND® had the opportunity to sponsor a very traditional California sporting event, the Catalina Classic Paddleboard Marathon, the company dived in with a splash.
For four straight years, Dana Oertell-Scoby took both LA SOUND and the Catalina Classic to new heights, rekindling the spirit of the 32-mile paddleboard race through steady publicity and sponsorships. Front-page stories in the Los Angeles Times, other local newspapers, and trade publications in addition to television coverage and cross-promotions with the Good Year Blimp, Body Glove®, and a variety of sporting equipment companies brought the 40-year old Catalina Classic race back into the limelight. Today it's part of the Bud Light® Ocean Festival's summer-long California ocean and beach sport competitions and remains the longest paddleboard race in the world.